Why is it important to create a release reference?
It is important that the supplying company provides the release reference promptly. Without a valid release reference, the using company will not be able to collect units. This will result in unnecessary delays and charges. If you do not provide a release reference it can also impact your performance ratings.
When should the release be provided?
Once a request is accepted, the supplier should provide the release reference asap to avoid any of the issues mentioned above.
How can the release be provided?
To provide a release reference, open the request and click on the provide pick-up details button located in the top-middle of the page. As the supplier, you should then enter the pick-up reference, location, validity date, number of containers, and pick-up depot and click on the create release. You can create many releases for single requests. As soon as you create a release, the other party is informed via email and in-app notifications. You should also specify the validity - this means how long the release will be valid for, and your partner will be able to use the release to pick-up/return containers.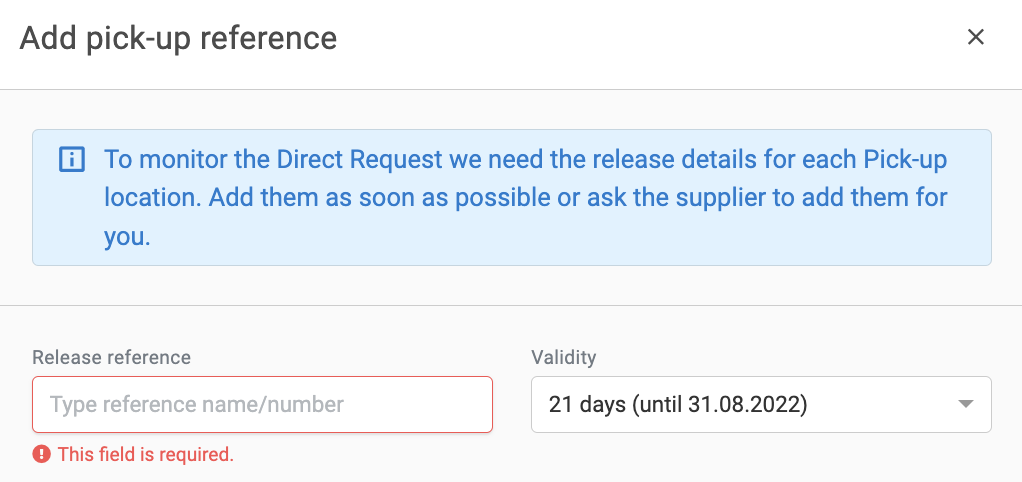 What should you do if you are unable to create the release?
If you have any issues creating the release please immediately contact support via the request chat you should use the tag feature ('@support') and advise of why you are unable to provide the necessary release reference.