- Deadline Specification -
In accordance with the BIMCO Agreement, the Supplier has 5 working days to share the Damage Claim with Container xChange and the User. If the Supplier does not provide the full Damage Claim within this stipulated deadline, the units will then be considered to be returned in an undamaged condition.
Therefore, it is incredibly important to know the correct process of Damage Claim opening, so that all parties can resolve their damage disputes in a timely manner.
- You can see the simplified opening scheme here: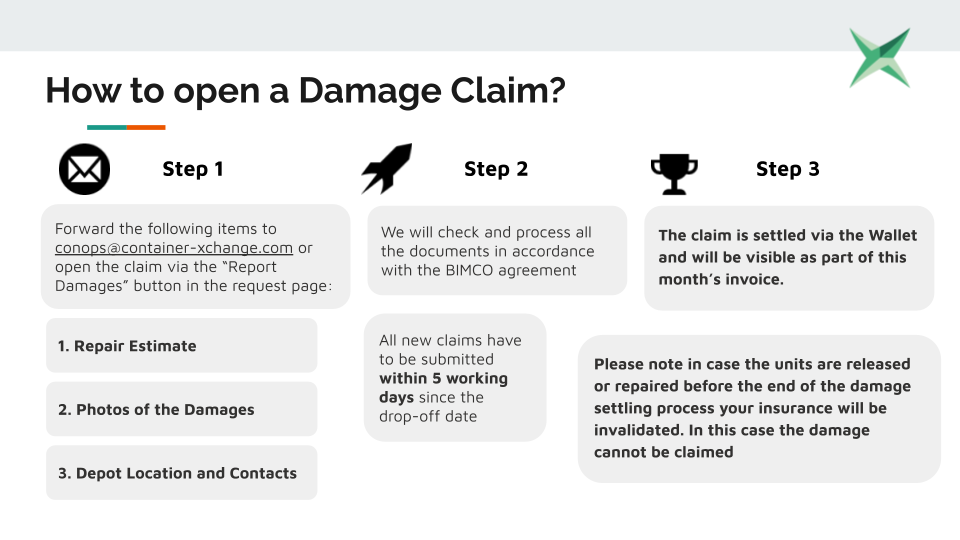 - Correct Opening of a Damage Claim -
In order to start the damage process, you can either use the "Report Damages" button in the upper left corner of the leasing deal page or simply email your estimates of repair and pictures to conops@container-xchange.com.

Your damage claim has to fulfil the following criteria:
The repair estimates must be in English format.

The estimates should include the following items:

Container number, Comp code, Loc code, Damage code, Repair code, Length, Width, Quantity, Labour Hours, Labour Cost, Material Cost, Total Cost and Currency.

Photos should clearly depict the damages and the container number. The minimal submission amount is 5 photos.
- Once you have successfully submitted all of the necessary documents, the ConOps team will reach out to you to confirm the receipt and processing of the submission as soon as possible. The current average processing time is 24 hours.