We understand that on occasion it is necessary to decline requests. Although, it is possible to decline requests it is important that you add an accurate reason so that your data is updated. This will also reduce the chances of you receiving more irrelevant deals in the future.

You can decline any request that you are not interested in by opening the request and selecting the 'Decline' button as shown below:


You will then be prompted with various decline reasons. You must always select the one from the list that best reflects the most accurate reason for declining the request.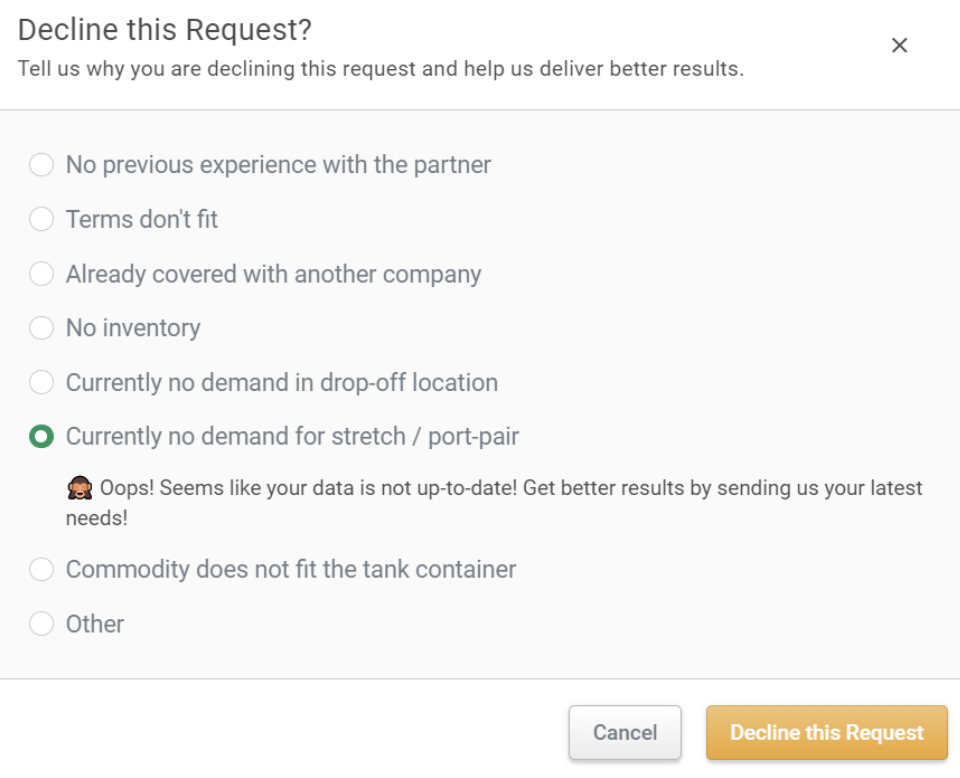 How does this help you to keep your requirements up to date?


If you choose the following reasons for declining a request, your relevant stretch for the respective request will be deactivated.


| | |
| --- | --- |
| If a supplier wants to decline the request | If a user wants to decline the request |
| No Inventory | Enough own stock |
| Currently no demand in drop-off location | Currently no demand for stretch/port-pair |
| Currently no demand for stretch/port-pair | Demand already covered by another partner |
| Already covered with another company | |
Table: Reasons for declining requests which will deactivate the requirements.
For example, if you receive a request to use a 20DC unit from Shanghai to Toronto but you don't have any recent demands for this stretch, you should select "currently no demand for stretch/port pair" as the decline reason.
Once done your requirement data for using 20DC from Shanghai to Toronto will be deactivated (on your requirements manager) and you will not receive a further request for this stretch in the future. If you have this demand again, you can simply go to the requirement manager and activate this demand again.
xChange recommends declining each request that you cannot make it work, as this will adjust your requirements automatically without any manual efforts, rather than not reacting on the request.