In the unfortunate event that a container gets stolen, xChange will take action against the perpetrator to ensure the owner gets reimbursed or that the container is returned to its rightful owner.
This includes but is not limited to, legal action, police involvement, and thorough investigation and follow-up by the xChange team. You can report stolen containers by contacting:
As per BIMCO xChange is not liable for stolen containers (regardless of whether you have additional insurance). xChange, however, will assist you in returning or getting reimbursed for the stolen containers.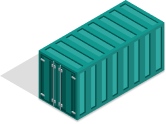 Previous Article | Main Article | Next Article