Premium Insurance is aimed to fully protect the User against all Impact Damages on the leased Equipment, all Total Loss cases and the associated survey costs. It always includes the Total Loss insurance.
What is covered by Premium Insurance?
Constructive Total Loss

General Average

New impact damages as per IICL6 standard, starting from a deductible of $ 50.

Total Loss is declared if the repairs are equal or higher than the DRV.
The Insurance covers the full amount of Impact Damages, which are directly connected to the execution of the contract on the Platform.
Insurance Deductible is a common in the industry standardised variable, set by the Insurance company, and it can be either 50 USD for all the DPP until 100 USD or 100 USD for all DPP higher than 100 USD .
You can see the insurance refund calculation scheme here: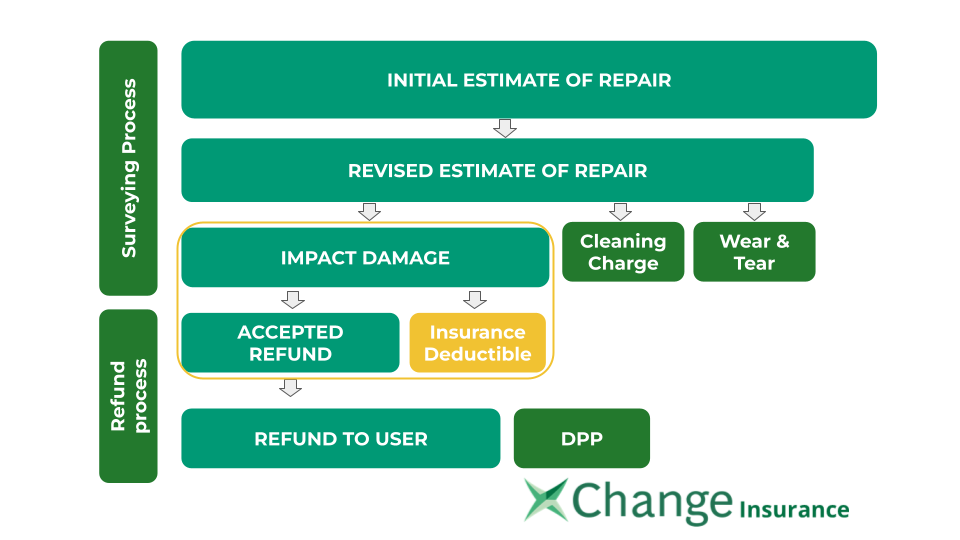 What is not covered by Premium Insurance?
Cleaning & Contamination charges are not included in the Premium Insurance - cleaning costs are covered by the user.
Wear & Tear (W&T + OLD) refers to normal wear & tear of the container unit over its lifetime and its related cost is allocated to the Supplier account or the container unit's owner account.
When are insurance costs charged?
The insurance costs are billed on a monthly basis to the User's wallet. Premium insurance cost runs anywhere from $ 12 up to $ 140 per container for the first 60 days, depending on container type. The first 60 days start from the container pickup date Post 60 days, the insurance is billed daily until the empty return of the container. The daily insurance rate post the first 60 days can vary anywhere between $0.21 up to $3 depending on container type.
The complete Damage Protection insurance , including individual container rates and other details, can be found in our Insurance Policy Scheme
Upon damage approval by the insurance surveyor the damage amounts are processed by xChange. In case both parties are xChange members the revised total estimate is settled through the wallet immediately. Following, the refund amounts are approved and added to the wallet of the insured party.
The total claim amount is usually settled completely with the accepted refund and your xChange DPP.