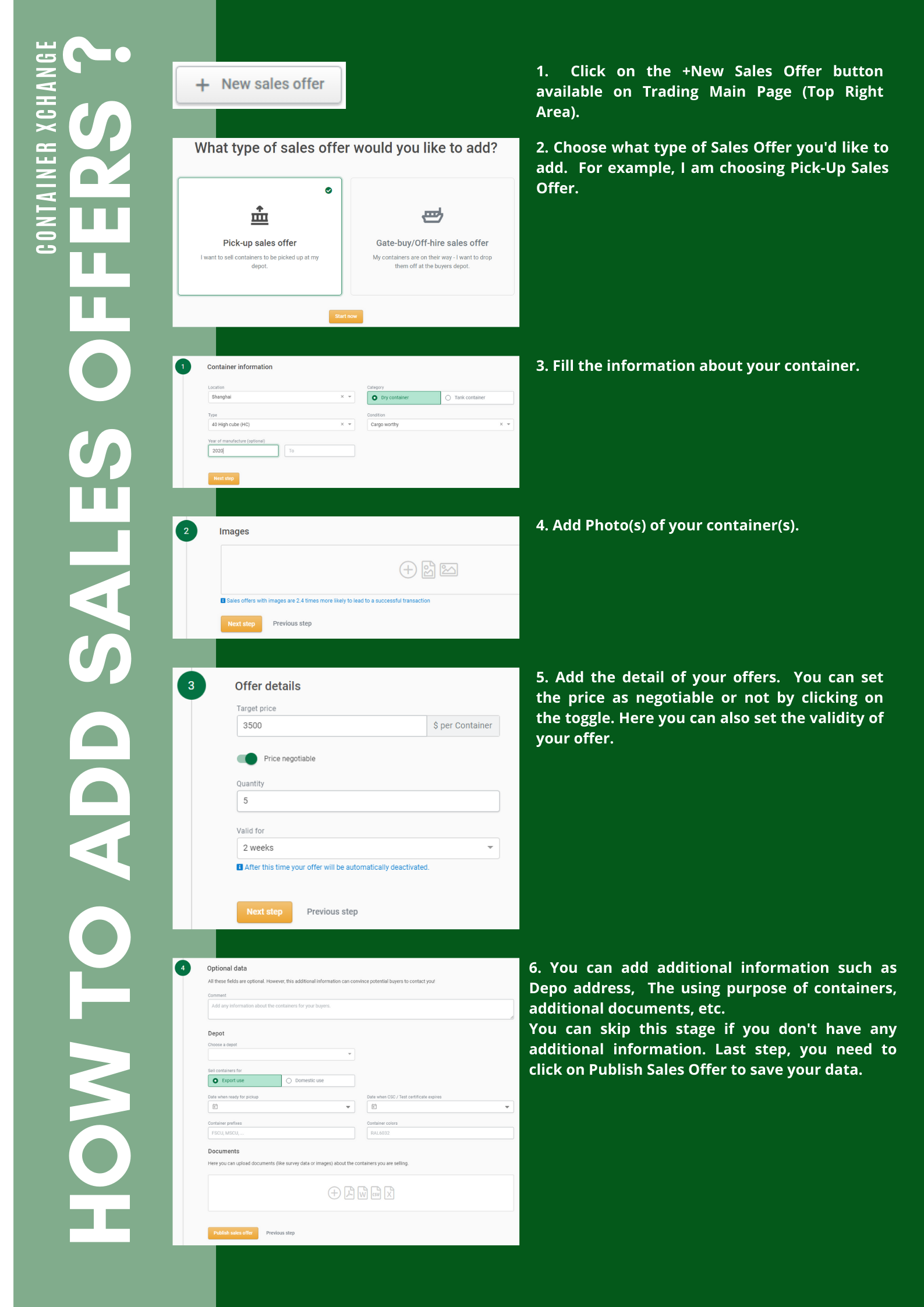 To conduct a search for sales offers on the trading platform you should first select the Trading tab on the xChange platform:

As a buyer searching for sales offers you should select 'find sales offers'

. to browse offers advertised by sellers. You can see both negotiable and non-negotiable offers and also pick-up and gate-buy.
How to refine your search?
You can narrow your search options down so that the results you see are more tailored. You should specify the location and container condition as below:

Once you have added these fields you can then further narrow down the search options and specify the following factors:
Container condition

Whether the deal is a gate-buy or pick-up

Whether you wish to only see deals from a specific company
How to start negotiating?
Starting negotiations on deals is simply, just click the 'start negotiation' button.
How to add sales offers?
You can add sales offers simply by clicking on 'my offers' as shown below:
You can then state whether your offer is pick-up or gate-buy then select 'start now'
You will receive the following confirmation once you have successfully published your offer:
Is it possible to extend sales offers?
You can easily extend the duration of any sales offer by selecting 'prolong activity' and specifying how long the deal should be valid for. In the same way, you can also deactivate and reactivate deals.
Do trading deals expire if I do not reply?
As illustrated each deal has a timer, this means that you must update your partner or take an action within that time-frame. If you do not do so, then the deal will expire.
Examples of valid actions would be: posting a chat confirmation, negotiating on the deal, updating the offer, and either accepting or declining the deal.