On the xChange platform, you can easily communicate with your partners. You can communicate with them via the chat function in individual leasing deals. You find the chat feature on the right side of every deal.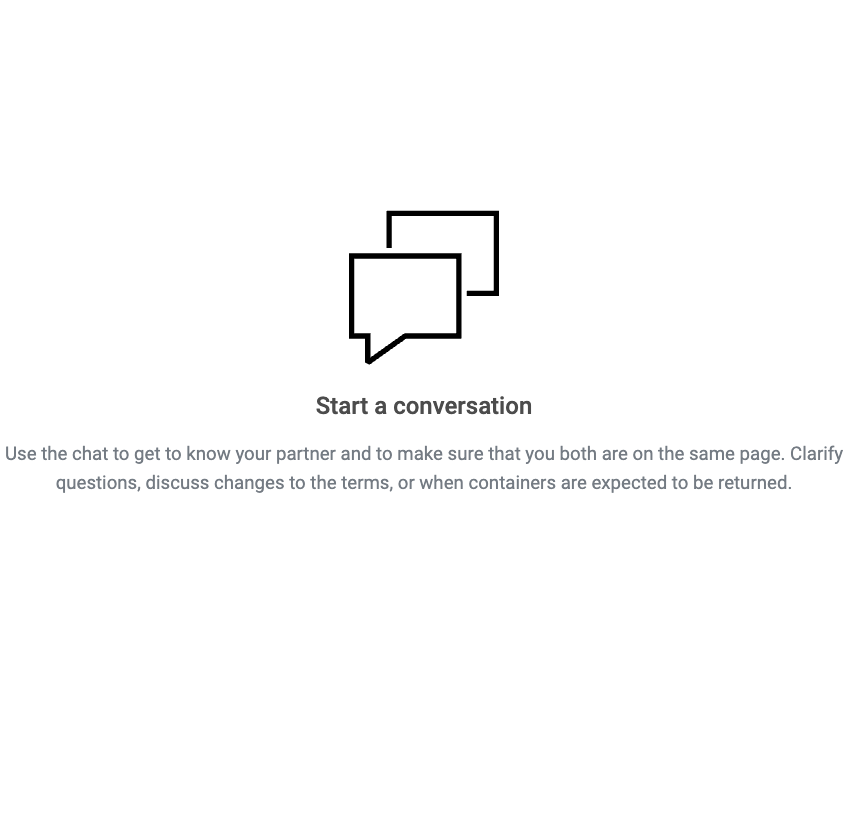 When should you use chat?
You can use it to negotiate with your partner and discuss every stage of the deal. You should use chat as your sole source of communication so that it is recorded and we can offer you support. When you send a chat message your partner will be notified via the platform and via email that they have received a message from you. We are also notified and can join in chat conversations to assist you and your partner. Importantly, we cannot support you if communication is taken off the platform.
What shouldn't I do on chat?
It is important that you don't share any personal information in the chat.
In need of xChange support in the deal chat:
You have now the possibility to tag "xChange support" or one of the xChange members who are available on the chat to ask for support/help. Our team will be notified and will reach out to you regarding your request as soon as possible. Please note that when you do not tag xChange support, our team will not be able to help you when you are in need.
How to tag xChange support on the chat?
You will have a small "@" icon on the chat text field. Simply click on it or just enter "@" in the text field, a dropdown with options appears. There you have the possibility to tag xChange support when you are in need. Please refer to the screenshot below: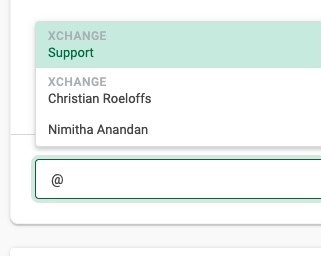 As soon as you or your colleagues or the partner company has requested for xChange support, there will be a system message displayed on the chat as shown in the screenshot below.

Online status on the chat header:
You can now easily view who is online on the deal by checking the chat header (right top corner). When you hover the mouse, you will know who is online, offline and who are part of this deal. Here is an example screenshot attached for you.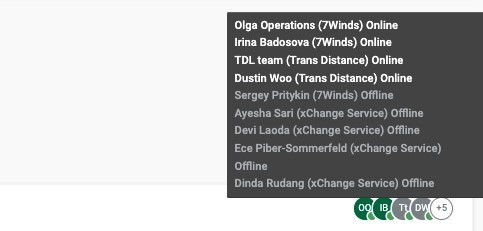 What do the different chat colours mean?
You can very well differentiate the chat messages based on the colour
Requester's messages are in grey colour
Addressee's messages are in green colour
xChange support messages are in blue colour
Copy & reply to your partners messages:
You can right-click on the chat message and simply copy the message or reply to the message as shown in the screenshot below.

Auto time out notification on the chat:
You have a system-generated message on the chat when the deal gets auto-timed-out due to inactivity from partner company as shown in the screenshot below.
New chat messages since your last login and Quick chat option:
You will now have a header in the chat to let you know which messages are new since your last login to the deal details page. You can also now send out quick chat messages by simply clicking on one of the quick chat suggestions.
To know who is typing a message on the Deal chat:
When you and your partner are active in the chat, you can now very well know who is typing a message on the chat, this will allow you to stay on the deal chat to receive and reply to your partner's message as soon as possible.