Once you have conducted a search, you will find the search results underneath the search field. In addition, in the 'overview' tab you can see leasing deals which are recommended for you. Importantly, you should keep your requirements updated on the platform.
In the preview, you will see the pick-up and drop-off locations, equipment type and the number of units that the other party is interested in.
You will have the option to send your suggested terms by selecting 'make an offer':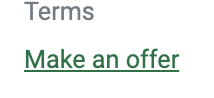 To send a request for a leasing deal, select the "start negotiation" button.
You can also book additional services, such as surveying, directly when you send the deal.