We know that managing claims can be a complex process, which is why we developed new functionality to simplify and optimize the entire experience for you.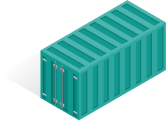 The Claims Manager is the claims management tool available in the xChange platform. It is seamlessly integrated into every leasing deal in the xChange platform, making it easier than ever to manage both Damage and DRV claims. 
Key Features
Damage Claims: With the Claims Manager, the Supplier can efficiently report and manage damage claims with just a few clicks.
DRV Claim Management: In case a container cannot be returned or used anymore, the Claims Manager facilitates the process of assessing and managing the related DRV claims. It ensures a straightforward approach to the handling of such situations, supporting the payment of the full discounted residual value of the container.
How can I Access the Claims Manager?
You can access the Claims Manager by simply navigating to the "Claims" tab in any leasing deal. It's a user-friendly interface designed to make your life easier.