In short, yes. The Supplier can request the user to present an EIR that will serve as proof to avoid any future disputes of the Pickup date through the leasing deal's chat.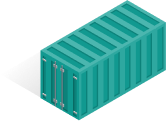 You can check the same is confirmed in the sub-clause 6 (d) of the Standard Container Leasing Agreement:
(d) An Equipment Interchange Receipt (EIR) evidencing the pick-up of the Equipment shall be signed by The User or the party commissioned by The User upon pick-up of the Equipment.