Below you can see data about which locations is currently available on Insights.
You can see on the map an overview of which locations you can already find on Insights, read further to see in more details (including data topics and cities).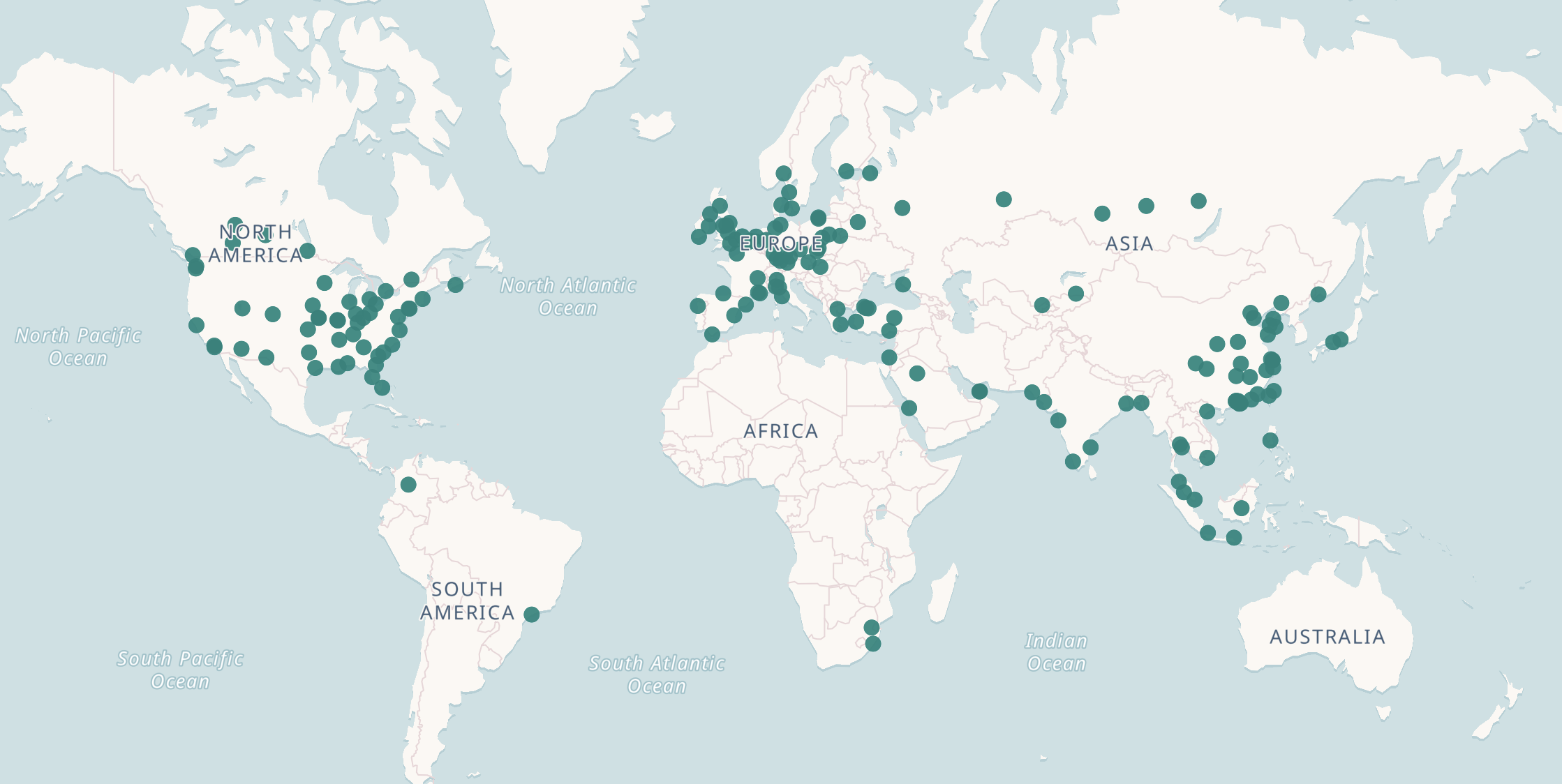 At the moment you can find information on the following:

For Trading information about 112 cities.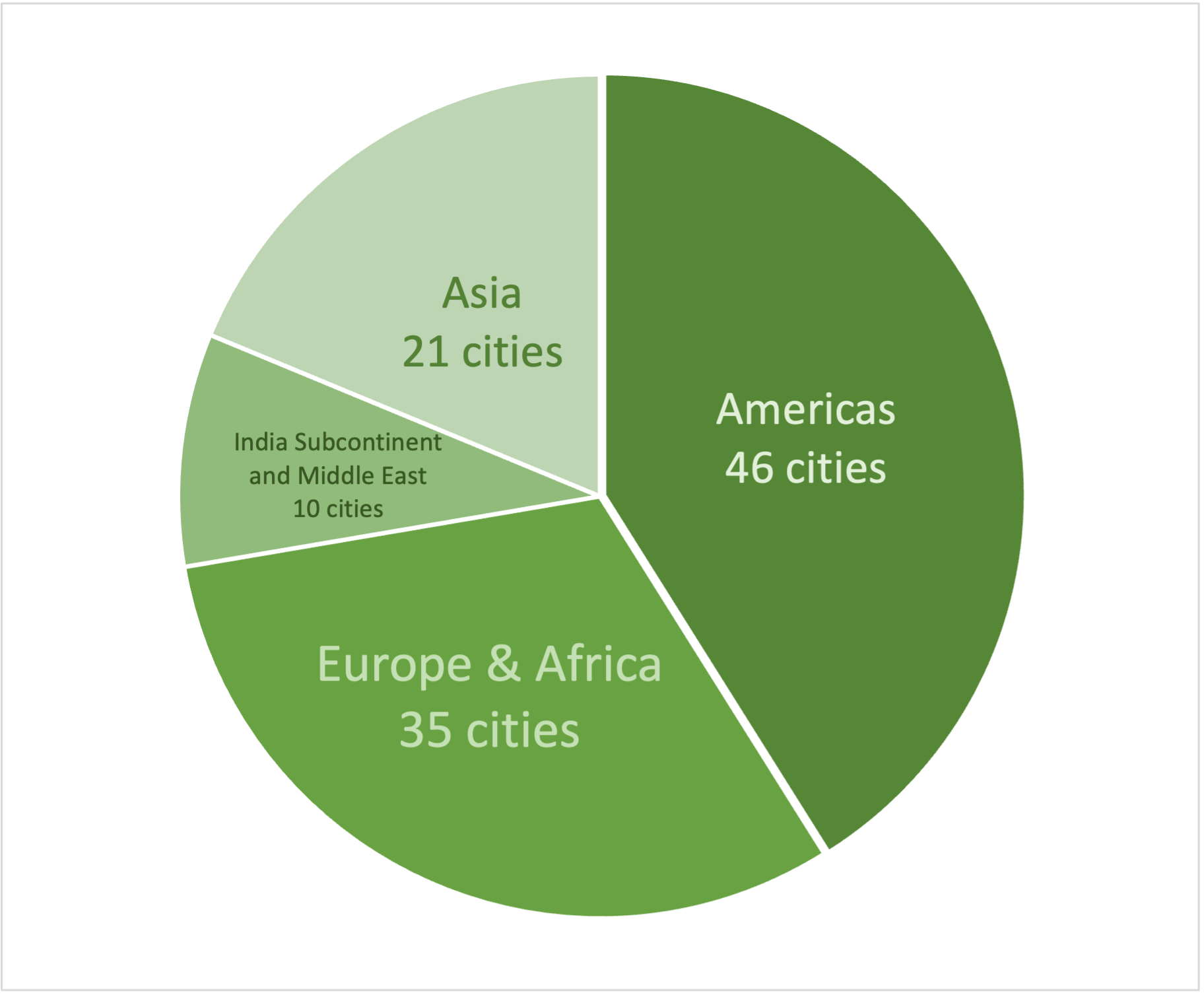 Leasing Pick-Up, 61 cities in total.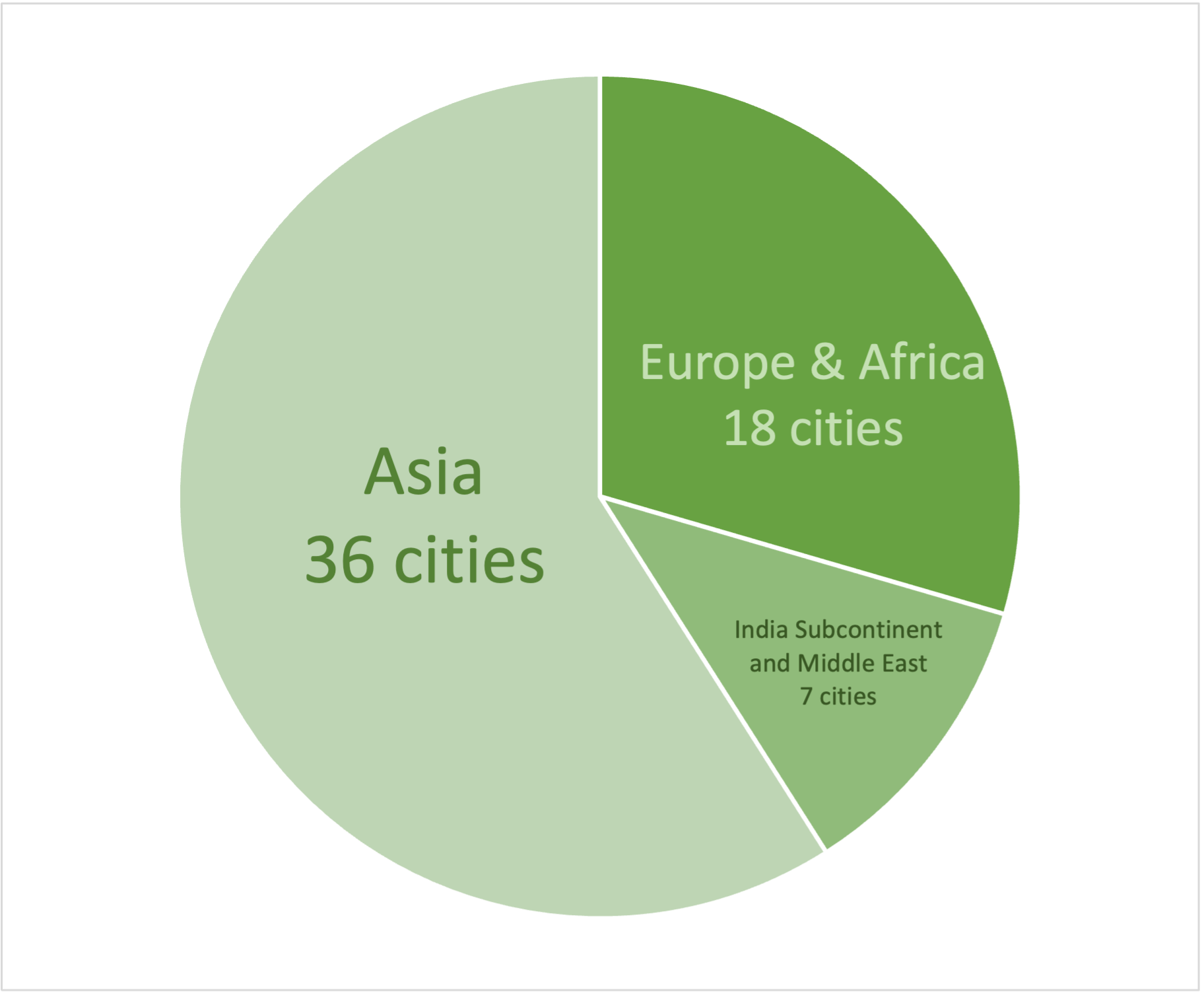 Leasing Drop-Off, 143 cities.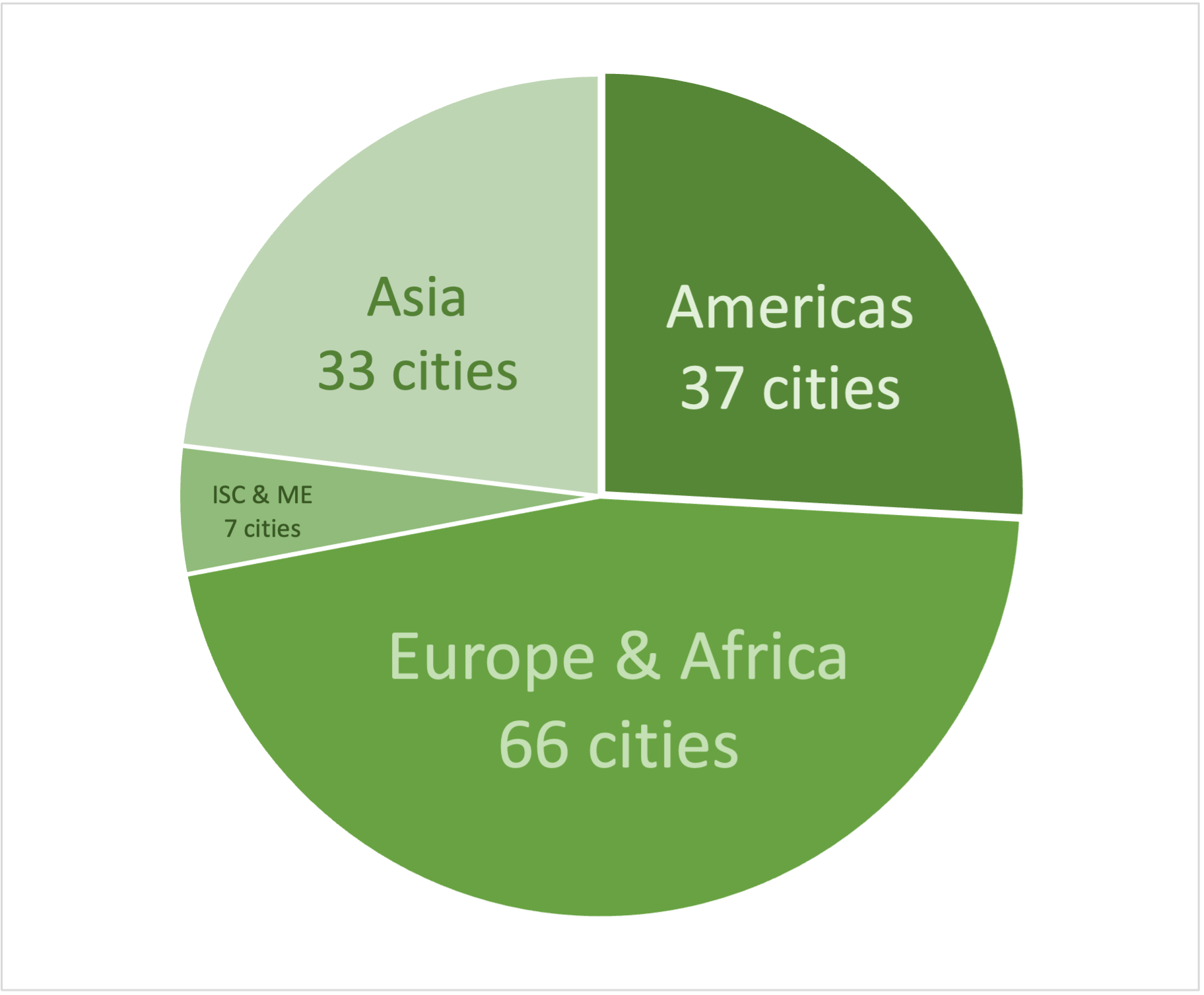 Below is the list of all the cities:
(the following cities are chosen by the factors such as availability of the reliable data and transactions including them on our platform)
| | | | | | |
| --- | --- | --- | --- | --- | --- |
| City Area | Country | Region | Trading Prices | Leasing Terms PU | Leasing terms DO |
| Almaty | Kazakhstan | Central Asia | ✓ | ✓ | ✓ |
| Tashkent | Uzbekistan | Central Asia | ✓ | | ✓ |
| Algeciras | Spain | Europe Med | | | ✓ |
| Ambarli | Turkey | Europe Med | | ✓ | ✓ |
| Barcelona (Spain) | Spain | Europe Med | ✓ | | ✓ |
| Bilbao | Spain | Europe Med | | | ✓ |
| Gebze | Turkey | Europe Med | | ✓ | ✓ |
| Genoa | Italy | Europe Med | ✓ | | ✓ |
| Istanbul | Turkey | Europe Med | ✓ | ✓ | ✓ |
| Istanbul, Ambarli Port E. Side | Turkey | Europe Med | | | ✓ |
| Izmir | Turkey | Europe Med | | | ✓ |
| Izmit | Turkey | Europe Med | | | ✓ |
| La Spezia | Italy | Europe Med | ✓ | | ✓ |
| Leixoes | Portugal | Europe Med | ✓ | | |
| Livorno | Italy | Europe Med | ✓ | | |
| Madrid | Spain | Europe Med | | | ✓ |
| Mersin | Turkey | Europe Med | ✓ | | ✓ |
| Milano | Italy | Europe Med | ✓ | ✓ | ✓ |
| Piraeus | Greece | Europe Med | ✓ | | |
| Thessaloniki | Greece | Europe Med | ✓ | | |
| Valencia (Spain) | Spain | Europe Med | ✓ | | |
| Aarhus | Denmark | Europe North | ✓ | | ✓ |
| Amsterdam | Netherlands | Europe North | | | ✓ |
| Antwerp | Belgium | Europe North | ✓ | ✓ | ✓ |
| Belfast (United Kingdom) | United Kingdom | Europe North | | | ✓ |
| Birmingham | United Kingdom | Europe North | | | ✓ |
| Bremen | Germany | Europe North | ✓ | | ✓ |
| Budapest | Hungary | Europe North | ✓ | | ✓ |
| Copenhagen | Denmark | Europe North | | | ✓ |
| Cork | Ireland | Europe North | | | ✓ |
| Dublin | Ireland | Europe North | ✓ | | ✓ |
| Duisburg | Germany | Europe North | ✓ | ✓ | ✓ |
| Dunkerque | France | Europe North | | | ✓ |
| Felixstowe | United Kingdom | Europe North | | | ✓ |
| Fos Sur Mer | France | Europe North | ✓ | | ✓ |
| Gdansk | Poland | Europe North | ✓ | | ✓ |
| Gdynia | Poland | Europe North | | | ✓ |
| Gliwice | Poland | Europe North | ✓ | | |
| Gothenburg | Sweden | Europe North | ✓ | | ✓ |
| Grangemouth | United Kingdom | Europe North | | | ✓ |
| Hamburg | Germany | Europe North | ✓ | ✓ | ✓ |
| Helsinki | Finland | Europe North | ✓ | | ✓ |
| Irkutsk | Russian Federation | Europe North | | | ✓ |
| Krasnojarsk | Russian Federation | Europe North | | ✓ | ✓ |
| Le Havre | France | Europe North | ✓ | | ✓ |
| Leeds | United Kingdom | Europe North | | | ✓ |
| Liverpool | United Kingdom | Europe North | | | ✓ |
| Lodz | Poland | Europe North | | | ✓ |
| London | United Kingdom | Europe North | ✓ | | ✓ |
| Lyon | France | Europe North | ✓ | | ✓ |
| Malaszewicze | Poland | Europe North | ✓ | ✓ | ✓ |
| Manchester | United Kingdom | Europe North | | | ✓ |
| Mannheim | Germany | Europe North | | | ✓ |
| Marseille | France | Europe North | | | ✓ |
| Minsk | Belarus | Europe North | ✓ | ✓ | ✓ |
| Moscow | Russian Federation | Europe North | ✓ | ✓ | ✓ |
| Munich | Germany | Europe North | | | ✓ |
| Novorossiysk | Russian Federation | Europe North | | ✓ | ✓ |
| Novosibirsk | Russian Federation | Europe North | | ✓ | ✓ |
| Nurnberg | Germany | Europe North | | | ✓ |
| Oslo | Norway | Europe North | | | ✓ |
| Ostrava | Czech Republic | Europe North | | | ✓ |
| Praha | Czech Republic | Europe North | | | ✓ |
| Regensburg | Germany | Europe North | | | ✓ |
| Rotterdam | Netherlands | Europe North | ✓ | ✓ | ✓ |
| Southampton | United Kingdom | Europe North | | | ✓ |
| St Petersburg | Russian Federation | Europe North | ✓ | ✓ | ✓ |
| Stuttgart | Germany | Europe North | | | ✓ |
| Ulm | Germany | Europe North | | | ✓ |
| Vienna | Austria | Europe North | ✓ | | ✓ |
| Vladivostok | Russian Federation | Europe North | | ✓ | ✓ |
| Warsaw | Poland | Europe North | ✓ | ✓ | ✓ |
| Yekaterinburg, Sve | Russian Federation | Europe North | | ✓ | ✓ |
| Zeebrugge | Belgium | Europe North | | | ✓ |
| Busan, Korea | South Korea | Japan & Korea | | ✓ | |
| Kobe | Japan | Japan & Korea | ✓ | ✓ | |
| Nagoya | Japan | Japan & Korea | ✓ | | |
| Santos | Brazil | Latin America East | ✓ | | |
| Ashdod | Israel | Middle East & ISC | ✓ | | |
| Chennai | India | Middle East & ISC | ✓ | ✓ | ✓ |
| Chittagong | Bangladesh | Middle East & ISC | ✓ | ✓ | |
| Cochin | India | Middle East & ISC | | | ✓ |
| Dubai | United Arab Emirates | Middle East & ISC | ✓ | | |
| Jebel Ali | United Arab Emirates | Middle East & ISC | ✓ | ✓ | ✓ |
| Jeddah | Saudi Arabia | Middle East & ISC | ✓ | ✓ | |
| Karachi | Pakistan | Middle East & ISC | ✓ | ✓ | ✓ |
| Kolkata(Calcutta) | India | Middle East & ISC | ✓ | | ✓ |
| Mundra | India | Middle East & ISC | ✓ | ✓ | ✓ |
| Nhava Sheva | India | Middle East & ISC | ✓ | ✓ | ✓ |
| Arkansas City, KS | United States | North America | ✓ | | |
| Atlanta, GA | United States | North America | ✓ | | ✓ |
| Baltimore, MD | United States | North America | ✓ | | ✓ |
| Boston, MA | United States | North America | ✓ | | |
| Calgary, AB | Canada | North America | ✓ | | ✓ |
| Charleston, SC | United States | North America | ✓ | | ✓ |
| Chicago, IL | United States | North America | ✓ | | ✓ |
| Cincinnati, OH | United States | North America | ✓ | | |
| Cleveland, OH | United States | North America | ✓ | | ✓ |
| Columbus, OH | United States | North America | ✓ | | ✓ |
| Dallas, TX | United States | North America | ✓ | | ✓ |
| Denver, CO | United States | North America | ✓ | | ✓ |
| Detroit, MI | United States | North America | ✓ | | ✓ |
| Edmonton, AB | Canada | North America | ✓ | | ✓ |
| El Paso, TX | United States | North America | ✓ | | ✓ |
| Halifax, NS | Canada | North America | ✓ | | ✓ |
| Houston, TX | United States | North America | ✓ | | ✓ |
| Indianapolis, IN | United States | North America | ✓ | | |
| Jacksonville, FL | United States | North America | ✓ | | ✓ |
| Kansas City, KS | United States | North America | ✓ | | ✓ |
| Kansas City, MO | United States | North America | | | ✓ |
| Long Beach, CA | United States | North America | ✓ | | ✓ |
| Los Angeles, CA | United States | North America | ✓ | | ✓ |
| Louisville, KY | United States | North America | ✓ | | |
| Memphis, TN | United States | North America | ✓ | | ✓ |
| Miami, FL | United States | North America | ✓ | | ✓ |
| Minneapolis, MN | United States | North America | ✓ | | ✓ |
| Mobile, AL | United States | North America | ✓ | | |
| Montreal, QC | Canada | North America | ✓ | | ✓ |
| Nashville, TN | United States | North America | ✓ | | |
| New Orleans, LA | United States | North America | ✓ | | ✓ |
| New York, NY | United States | North America | ✓ | | ✓ |
| Newark, NJ | United States | North America | ✓ | | |
| Norfolk, VA | United States | North America | ✓ | | ✓ |
| Oakland, CA | United States | North America | ✓ | | ✓ |
| Omaha, NE | United States | North America | ✓ | | |
| Phoenix, AZ | United States | North America | ✓ | | |
| Saint Louis, MO | United States | North America | | | ✓ |
| Salt Lake City, UT | United States | North America | ✓ | | ✓ |
| Saskatoon, SK | Canada | North America | | | ✓ |
| Savannah, GA | United States | North America | ✓ | | ✓ |
| Seattle, WA | United States | North America | ✓ | | ✓ |
| St Louis, MO | United States | North America | ✓ | | |
| Tacoma, WA | United States | North America | | | ✓ |
| Tampa, FL | United States | North America | ✓ | | ✓ |
| Toronto, ON | Canada | North America | ✓ | | ✓ |
| Vancouver, BC | Canada | North America | ✓ | | ✓ |
| Wilmington, NC | United States | North America | ✓ | | |
| Winnipeg, MB | Canada | North America | ✓ | | ✓ |
| Changsha | China | North East Asia | | ✓ | ✓ |
| Chengdu | China | North East Asia | | ✓ | ✓ |
| Chongqing | China | North East Asia | | ✓ | ✓ |
| Dalian | China | North East Asia | ✓ | ✓ | ✓ |
| Dongguan | China | North East Asia | | | ✓ |
| Foshan | China | North East Asia | | | ✓ |
| Fuzhou | China | North East Asia | | ✓ | |
| Guangzhou | China | North East Asia | ✓ | ✓ | ✓ |
| Huangpu | China | North East Asia | | ✓ | ✓ |
| Keelung | Taiwan | North East Asia | | | ✓ |
| Nansha | China | North East Asia | | ✓ | ✓ |
| Ningbo | China | North East Asia | ✓ | ✓ | ✓ |
| Qingdao | China | North East Asia | ✓ | ✓ | ✓ |
| Shanghai | China | North East Asia | ✓ | ✓ | ✓ |
| Shantou | China | North East Asia | | ✓ | |
| Shekou | China | North East Asia | ✓ | ✓ | ✓ |
| Shenyang | China | North East Asia | | | ✓ |
| Shenzhen | China | North East Asia | ✓ | ✓ | ✓ |
| Taicang | China | North East Asia | | ✓ | ✓ |
| Taichung | Taiwan | North East Asia | | ✓ | |
| Tianjin | China | North East Asia | ✓ | ✓ | ✓ |
| Tianjinxingang | China | North East Asia | | ✓ | ✓ |
| Weihai | China | North East Asia | | ✓ | |
| Wuhan | China | North East Asia | | ✓ | ✓ |
| Xi An | China | North East Asia | | | ✓ |
| Xiamen | China | North East Asia | ✓ | ✓ | ✓ |
| Xian | China | North East Asia | | ✓ | ✓ |
| Xingang | China | North East Asia | | | ✓ |
| Yantian | China | North East Asia | | ✓ | ✓ |
| Yiwu | China | North East Asia | | | ✓ |
| Zhengzhou | China | North East Asia | | ✓ | ✓ |
| Bangkok | Thailand | South East Asia | ✓ | ✓ | ✓ |
| Belawan | Indonesia | South East Asia | | ✓ | |
| Haiphong | Vietnam | South East Asia | | ✓ | |
| Ho Chi Minh City | Vietnam | South East Asia | ✓ | ✓ | ✓ |
| Jakarta | Indonesia | South East Asia | ✓ | ✓ | |
| Laem Chabang | Thailand | South East Asia | ✓ | ✓ | ✓ |
| Manila | Philippines | South East Asia | ✓ | | |
| Penang | Malaysia | South East Asia | ✓ | | |
| Port Kelang | Malaysia | South East Asia | ✓ | ✓ | ✓ |
| Singapore | Singapore | South East Asia | ✓ | ✓ | |
| Surabaya | Indonesia | South East Asia | ✓ | ✓ | |
| Durban | South Africa | Southern Africa | ✓ | | |